Is a new MOM traveling? Scared, confused, and nervous! Don't be!
Traveling is enjoyable, but it could seem even more overwhelming if you last did it a while ago. For the most part during pregnancy, moms have spent their time at home.
Given birth- Nothing can be more complex than this. We salute all mothers and women who endure severe pain for months to bring an angel into this world.
Post-birth traveling is undoubtedly exciting and stressful for new moms. Before you depart, increase your adaptability, patience, and calmness. For all the new moms, here are some traveling tips to follow.
Here are new MOM traveling tips to follow:
Plan and organize 
Planning is very important in every aspect and it becomes all the more crucial when you are heading on a journey with your toddler. Prepare for the journey in the best way you can.
Be it clothing, essential supplies, stay, or meals, everything has to be planned. You can shop for travel-size supplies that will save you some space.
Organize activities, but remember, don't be stressed. Always have alternatives ready & allow flexibility in your schedule.
Pack smart
When traveling, it's crucial to pack everything you need, but don't pack too much that you end up feeling exhausted for your trip from the weight of the suitcase, you need rest not more of that shoulder and back pain.
Traveling light does not mean leaving behind all the necessities; instead, it means managing the weight and space.
While packing give a try to a technique for taking out the bulkiness of clothing by using zip-top bags that suck all the air out.
Carry-on luggage
Always have a complete kit ready in the place that has everything-diapers, wipes, disposable baggies, lotions, milk formula baby food, quick snacks & some zip-lock bags.
It is advisable to keep a few changing liners in case the aircraft does not offer changing space in their lavatories.
Sometimes, the kid may vomit while traveling, so always carry something to handle that moment apart from a couple of easily wearable dresses and towels.
Carry spittoons so that you do not disturb the co-passengers.
Try to book a direct flight
Avoid a second takeoff and land at the airport with all the hustle. After all, it is exhausting. As New Mom traveling, don't be shy or afraid to ask for help if you need it.
What it means is no more hard work and saying no to things that can tire you. Try choosing a direct flight; your nerves will thank you for sure.
Bring comfort items
Never miss taking your child's favorite toy especially if you are traveling alone with your little one. Plush animals and comforting blankets are the must-haves.
Avoid packing noisy toys that may disturb fellow passengers. During the take-offs & landings, consider breastfeeding or giving something to sip to your kid to keep the little ears pain-free.
Pacifiers can be of great help to soothe and calm restless newborns.
Carry emergency medicines
Consult your doctor and carry the medication for any unexpected situations. Whether you are having problems or not, you never know what could happen.
For a new mom traveling, basic pain relievers for the body- headaches, stomach flu, fever, and allergies are essential.
Pick the aisle seat
Window seats are fantastic if you want to take your time and appreciate the lovely scenery, but when you are taking your toddler along aisle seat is the better option.
Getting on and off the seat can be a hassle for you and bother other passengers as well.
You might have to get up frequently due to various reasons, but the aisle seat will make your task ten times easier, believe me!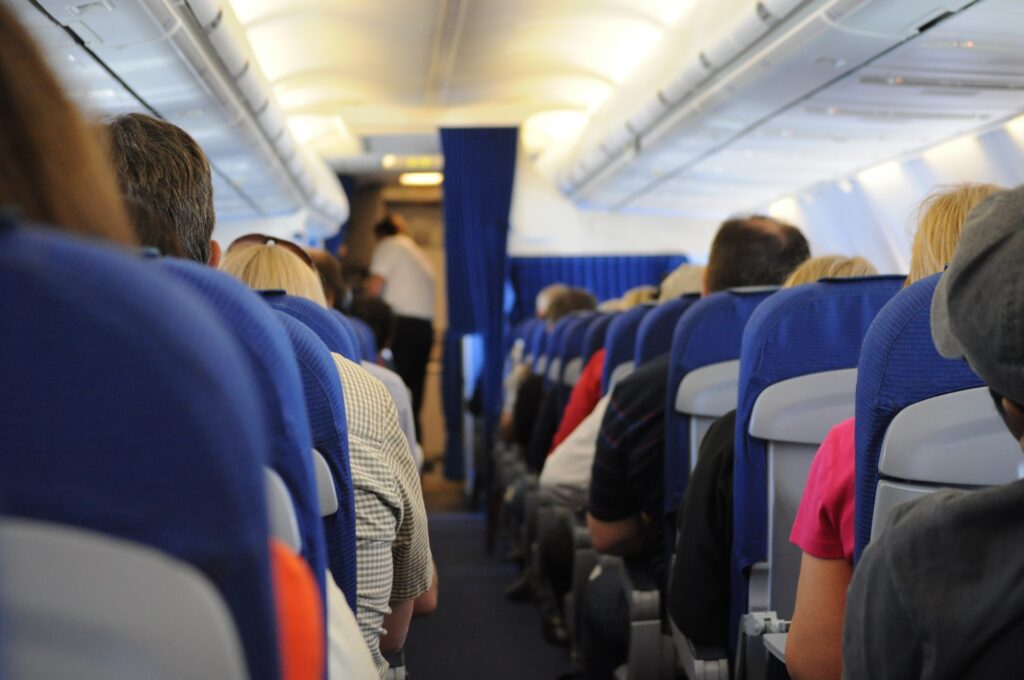 Emergency phone numbers on speed diallers
Keep doctor's, family members & some known localities' numbers handy to contact them immediately in case of any emergency.
Don't miss the stroller
Having a stroller will make your navigation at the busy airport way easier as you can use it as your storage device.
Of course, you won't be able to take it on board however; you can keep it with you until boarding.
While boarding the flight you can always ask for a security tag & request the attendant to stow it for you when you land at your destination.
Pre-booked accommodation
Check the place beforehand where you are staying. Research ahead and have a crib ready in your hotel room.
Ensure to make some reservations at family-friendly restaurants, which will help in scheduling activities such as short naps, and meals at your convenience.
As a new mom traveling, there are already enough things to worry about—don't let traveling with a toddler be one of them. In the end, all we wish is that you enjoy your trip in the best way possible!!