Get ready for an amazing journey at Waterton Lakes National Park! It's a place with so many cool things to do that you might want to come back more than once. Let's explore the top things you should definitely try on your next visit:
Embark on Bear's Hump Hike
Take a hike up Bear's Hump, a must-do adventure in Waterton National Park, Alberta. This exciting hike treats you to breathtaking views of the Canadian Rockies that will leave you in awe. On sunny days, you can even see the outline of Montana on the horizon. It's a short and simple hike right in the town, and you can finish it in less than an hour, so you'll have plenty of time to explore more of Waterton.
Indulge in High Tea at the Prince of Wales Hotel
After a hike, treat yourself to a delightful experience at Waterton National Park – enjoying high tea at the magnificent Prince of Wales Hotel. There are few places as perfect for a fancy tea-time get-together as this one. Whether you're staying at the hotel or just visiting, you're welcome to join in between 12 pm and 4 pm. You'll be treated to a delightful assortment of tasty sandwiches and pastries, all while you soak in the breathtaking views.
Conquer the Red Rock Canyon Parkway on Two Wheels
Red Rock Canyon Parkway is one of the most famous and cherished places in Waterton. This stunning 9-kilometer road is like a work of art with its rolling hills, rugged mountains, and wide-open grassy plains. Along the way, you'll find beautiful spots to take pictures. You can explore it by car if you like, or for an even more exciting adventure, you can rent a bike in town and pedal your way through this scenic paradise.
Savor Ice Cream Delights in Downtown
While Downtown may be small, it's bursting with exciting things to see and delicious places to eat, all right by the beautiful Lake Waterton. Some of our personal favorites for a tasty meal include Wieners of Waterton, The Taco Bar, and the Thirsty Bear. And when the sun is shining brightly during the summer, don't resist the temptation to enjoy a refreshing treat at the Big Scoop Ice Cream Parlor.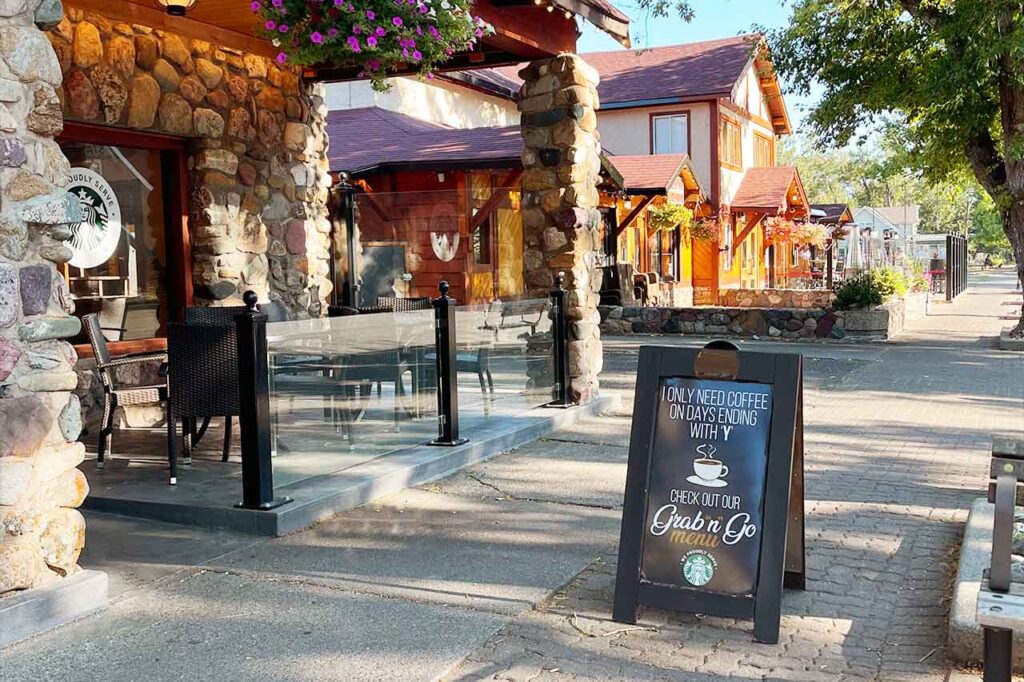 Embrace the Waters of Lake Waterton
Don't miss the chance to go paddling on Lake Waterton in a kayak, canoe, or stand-up paddleboard. It's a must-do experience here, especially on hot days. You can easily rent these watercraft from Pat's Waterton, so you can fully enjoy your watery adventure.
Discover the Enchanting Cameron Falls
Cameron Falls, a magical wonder in Waterton, is one of the most beautiful waterfalls in Alberta. You can easily reach it from the center of town, and when you get there, you'll be greeted by the sight of clear mountain water flowing down in a sparkling cascade. You can even feel the refreshing mist if you stand on the viewing bridge.
Journey to Lower Bertha Falls + Bertha Lake
Hiking to Lower Bertha Falls is an adventure that's as easy as Bear's Hump, but instead of grand vistas, you're treated to the refreshing beauty of waterfalls. This hike is perfect for families, with a gentle path and not much uphill climbing. As you walk to the falls, you'll also enjoy lovely views of Waterton Lake.
When you reach the falls, you have the option to continue your hike to Bertha Lake, which is another 3 kilometers away, with an elevation gain of 400 meters and 21 switchbacks. Your reward at the end of this journey is a stunning oasis of green-blue beauty.
Embark on a Waterton Lakes Boat Tour
You can enjoy the Waterton Marina by joining the daily boat tours on the Shoreline Cruise. It costs $55 for adults, and it's totally worth it. This adventure takes you out onto Waterton Lake, where you'll even cross the border between Canada and the United States, making a quick stop in Goat Haunt, Glacier National Park, Montana. While you're on the boat, the friendly crew will share fascinating stories about the history of Waterton National Park, making your voyage even more exciting.
Explore the Wilderness on Horseback
Further, discover the Canadian Rockies heart on horseback with Alpine Stables. They've been giving rides since 1969. They'll guide you on over 200 kilometers of trails in Waterton Lakes National Park, creating unforgettable memories.
Cycle Your Way Through Waterton Park
Calling all cycling enthusiasts! Waterton National Park has some fantastic summer trails waiting for you, whether you prefer road bikes, mountain bikes, or e-bikes. The Red Rock Canyon trail, a 36-kilometer wonder, starts right in town and is perfect for riders.
Conclusion
Waterton Lakes National Park is an oasis of possibility where every traveler finds their own unique path to adventure. Whether it's the pristine beauty of the great outdoors, the culinary delights of the region, or the tranquility of a scenic boat tour, Waterton offers a diverse range of experiences to suit all tastes. So, pack your bags and embark on your Waterton adventure.