Cycling is a low-impact aerobic exercise that brings tonnes of benefits to the table. You can engage in cycling in different intensities, making it well-suited for people of other builds. Additionally, cycling can be your everyday activity, mode of transportation, or a competitive endeavor. This lovely workout can help you stay active and be on the brim of mental and physical health.
Please scroll below to learn about the different benefits cycling offers:
Boosts up your stamina
Cycling can be your best choice if you wish to increase your cardiovascular stamina. You might be a newbie or a seasoned athlete, but cycling can help you exercise without the fatigue and muscle pain you feel. For best results, you need to start with high-intensity riding and increase the intervals bit by bit daily. A heart rate monitor can help you find your optimal rate. It would be best if you strived to maintain that for more extended periods. Keeping track of all the stats in a journal can push you towards your goal as you increase your miles weekly.
Improves mental health
Undoubtedly, meeting with people who nurture similar interests as that of you is bound to improve your mental health. Also, regular cycling can help you sleep better by changing your slumber patterns. Focussing on the road ahead can help develop an awareness of the present moment and concentration. If you feel lethargic lately, you must get on the bike for at least 10 minutes. Doing this will release endorphins in your body so that you feel better and your stress levels decrease.
Connect to your community
You can visit different community parks and interact with fellow cyclists as you go cycling. Above all, going outside can allow you to bask in the beauty of nature and keep stress at bay.
Helps in weight loss
High-intensity cycling can lower your body fat levels to promote better weight management. Adding strength training to your cycling sessions can boost your metabolism and aid in muscle building, so you burn more calories even when resting.
Helps strengthen your legs
One of the major benefits that cycling offers is strenghthing muscles. Cycling can strengthen your leg muscles without inflicting too much stress on your joints. Its main target areas are the glutes, quads, calves, and hamstrings.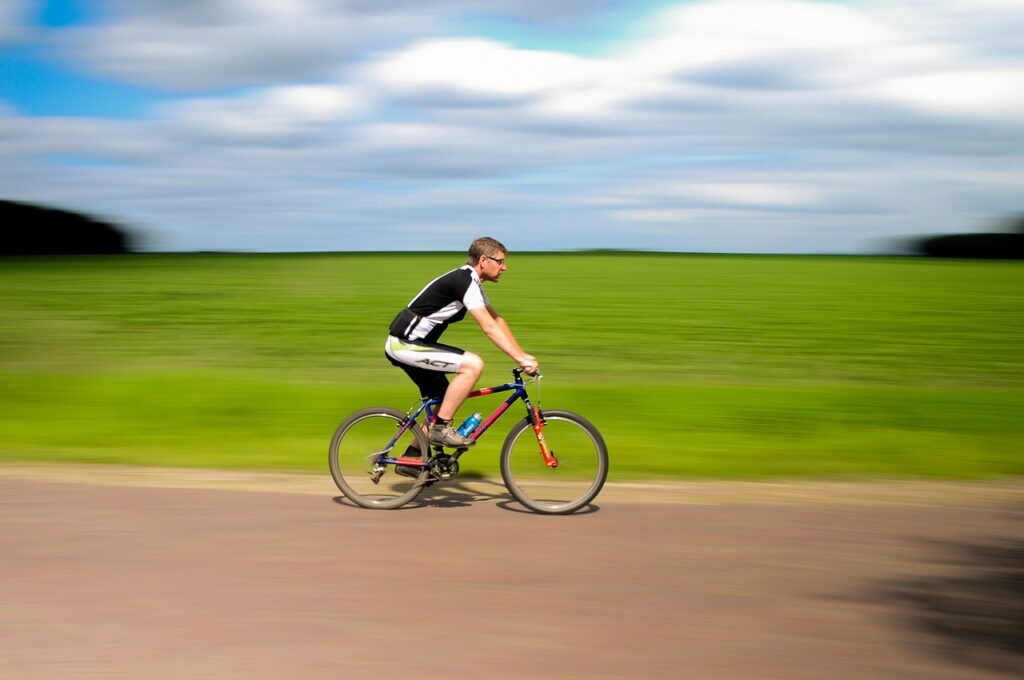 Perfect for beginners
If you are recovering from an illness or injury or are a new entrant in the fitness field, then low-intensity cycling can be your best workout. Howver, you can slowly increase the intensity as you get fitter or get the hang of it.
Can lower cholesterol
Studies conducted revealed that indoor cycling could induce a positive effect on your cholesterol levels. It can lower bad (LDL) cholesterol and triglyceride levels while boosting good (HDL) cholesterol. As a result, your chance of succumbing to a heart attack or stroke reduces drastically.
Improves posture, balance, and coordination
Your overall balance, coordination, and gait improve as you keep your cycle upright. Our balance decreases with increasing age and inactivity. This is why engaging in exercises like cycling is advisable to strengthen our balance and help prevent falls and fractures.
Environment friendly
Commuting by cycle rather than taking your car can help decrease your carbon footprint. This makes cycling a greener alternative to regular transportation options. You can also go through traffic quickly on a cycle rather than being struck for hours in a car.
Helps people with cancer
If you are recovering from cancer, cycling can be a fantastic addition to your daily routine. During treatment, people usually experience pain and low energy, and cycling can help you stay fit. Moreover, it can also reduce the risk of different types of cancer and the side effects of treatment.
Conclusion
Cycling is one of the most diverse and accessible sports for you to try. It can help you stay connected with nature while journeying toward a healthier tomorrow. If the weather is in your favor, hop on your bike and travel the distance to beat the boredom of repetitive workouts.
I hope that the benefits of cycling mentioned above will help you to stay active and healthy!
Also, check out our tips to stay active while traveling.