Are you thinking of staying healthy while filling your lungs with fresh air and basking in the beauty of nature? If you have an affirmative response, then you need to go hiking at the earliest.
But before going for a hike, you need to prepare in advance. The weather might play a spoilsport and the terrains might not be very inviting. Thus, it is of primary importance to carry the right set of dresses that can keep you comfortable on the hike.
Scroll below to know about the things to consider while choosing your hiking garments:
Safety
Primarily, you need to consider the different terrains and weather conditions you will be hiking in. They can have a big role in determining your clothing safety. Often certain places require specific clothing. You should inquire about the weather and environmental conditions of the region where you are planning to go hiking. A windproof rain jacket is an absolute must if you will be hiking through the rain.
Comfort
Staying comfortable can help you make the most of your hike. Cotton is a strict no-no. Rather, you can opt for polyester, nylon, and merino wool. You should consider both the type of material and the fitting of your dress. A tight-fitting garment will restrict your natural motion. Rather you should opt for something which offers an adequate degree of flexibility while making you look good.
Outfit Must-Haves for Your Hiking Trip
Undergarments
Hikers often make the mistake of neglecting their underwear. But you need to be especially cautious about the choice of undergarments. Materials like polyester and nylon help prevent chafing and uncomfortable wetness by wicking moisture away from your body.
Bottom Wear
Before deciding on your bottom wear, you need to consider potential environmental hazards you might face on the trail. This will help determine the best type of bottom wear that can help you move quickly.
Socks
Cotton is infamous for absorbing sweat. Your feet will feel wet throughout the hike and this isn't something you would want to experience. It is advisable not to wear cotton socks while hiking if you don't want painful blisters on your feet.
Footwear
Your choice of footwear will be determined by a combination of the trail terrain, your personal preferences, and the weather conditions you might face. Though hiking boots aren't a fancy option they offer ample traction and ankle support to make your hiking easier.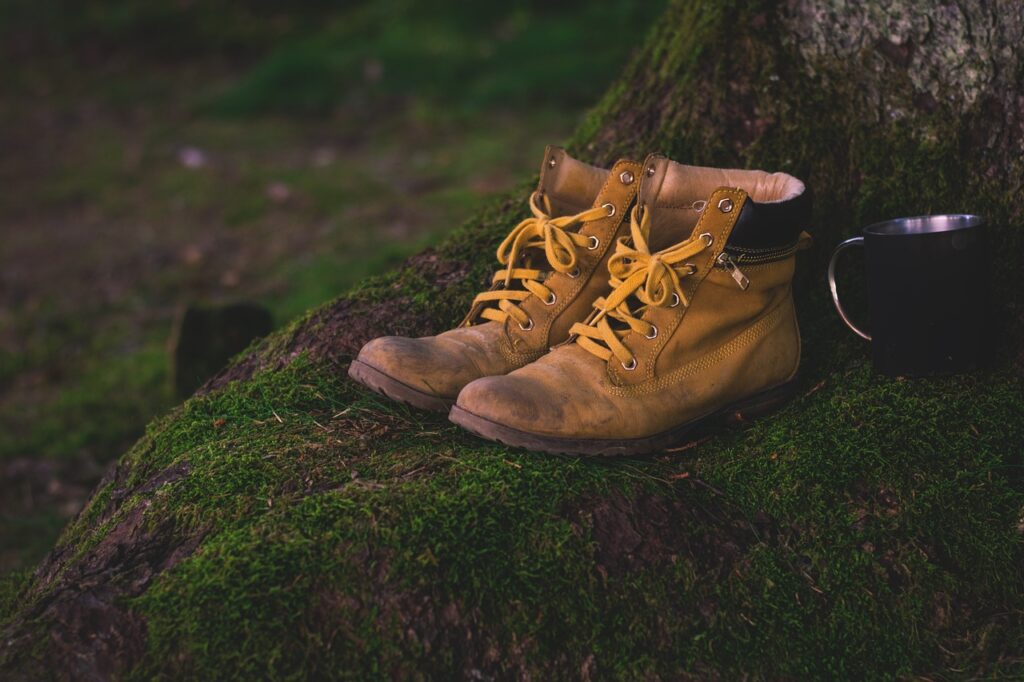 Shirts
While choosing a hiking shirt, its moisture-wicking attributes should be brought into consideration. You should opt for a shirt that keeps you dry throughout the hike by wicking away sweat. Merino wool and synthetic materials are the best choices for hiking shirts.
Jackets
Your choice of jacket will depend on the weather and season when you will be visiting your hiking destination. Ideally, you should opt for a jacket that can be packed in neatly whenever you take it off during the hike. Getting a waterproof and windproof jacket serves as an added plus. These jackets can be used around the year irrespective of the weather you face during the hike.
Hats
Irrespective of the season, you can wear a hat while hiking. They can shield your neck and face from the fierce sun, keep your head dry when it rains, and even keep you warm during the chilly winters. The hat you choose should be durable, practical, and fashionable so that you can take stylish pictures.
Coupled with the right set of hiking gear, you can take on different terrains with supreme confidence. While winter months call for waterproof rain pants, and a long-sleeve shirt, you can enjoy summer months with a simple tank top, shorts, and a windbreaker.
Last but not the least comes the spring season. Here a long-sleeve shirt, fleece pullover, shorts, and windbreaker can keep you comfortable. Before embarking on a hiking trip, you need to mandatorily check the weather forecast for the preceding and succeeding days.