People treat Toronto as Canada's capital city, surprised! People count Toronto among the country's top destinations while visualizing its huge display of scenic beauty and activities. During this trip, be prepared to witness the most amazing natural wonders of the world.
Toronto lies in the real capital of Canada, Ontario – and spread its wing on the enormous Lake Ontario's western edge. Toronto stands as the most populous city in Canada—I never thought so! To your surprise, it stands fourth most populated in North America. Mexico City stands first, New York City is second, and Los Angeles is third.
You can count its location for grabbing the historical importance. Unquestionably, the immigrants came through here in the country and added multicultural and cosmopolitan vibes to the atmosphere. The result is this profound, disguised and fantastic holiday destination.
Epicure of Heaven
If you're a foodie, you will start packing your bags the moment you finish reading this; why? Simply because Toronto is foodie heaven! Don't start packing now; at least finish reading!
The city hosts mouth-watering cuisines for all seasons. It is also home to St Lawrence Market for more than 120 years now. National Geographic named this market as the world's best food market. Additionally, do visit Chinatown in Toronto. Especially, the diverse cuisine here made it worth adding to your dinner plans.
Distillery
Walk to the Distillery District to enjoy the soul feast and witness the city's best spots. Undeniably, you will find everything here- from a hub to crafty shops and adorable architecture; it is a great place to add value to your handicraft knowledge.
If you are willing to witness the craft beer scene in the town and Toronto, you will not disappoint. Certainly, it is a common scene throughout.
CN Tower
CN Tower stands erect as the city's impressive skyline, World's tallest structure sometime back and surely Toronto's best-known landmark. Reach the top and enjoy the breathtakingly beautiful views across the landscape. Let me add to the dare factor! Step on the Daredevils- glass floor.
Imagine staring 342 meters down to the pavement! Thought of walking on the EdgeWalk on the outer edge of the SkyPod, approx 447 meters. If you still fill the hunger in your stomach, sit down to enjoy a meal at the most outstanding 360 Restaurant.
Sports and Amusement
Rogers Center
Sports fans don't feel left out. CN Tower lies next, and you'll locate the Rogers Center, Home to Major League Baseball side Toronto Blue Jays.
Ever tried the Hockey Hall of Fame as an afternoon outing?
Who doesn't know about the Toronto Raptors? They are the city's basketball side who are competing in the NBA. Lately, in 2019, they were the first non-American to win the crown of the NBA title.
Wonderland
Thrill seekers must be waiting to enjoy the theme park. Canada's Wonderland offers 200+ rides and attractions. This includes a thrilling water park and Canada's tallest and fastest rollercoaster, Leviathan.
Niagara Falls
Undoubtedly, there is nothing that seems to be missing in Toronto. The world-famous, eye-catching sight of the great Niagara Falls stands a drive of just an hour and a half by car.
If you like to cycle, start pedalling now, as it has several cycling routes.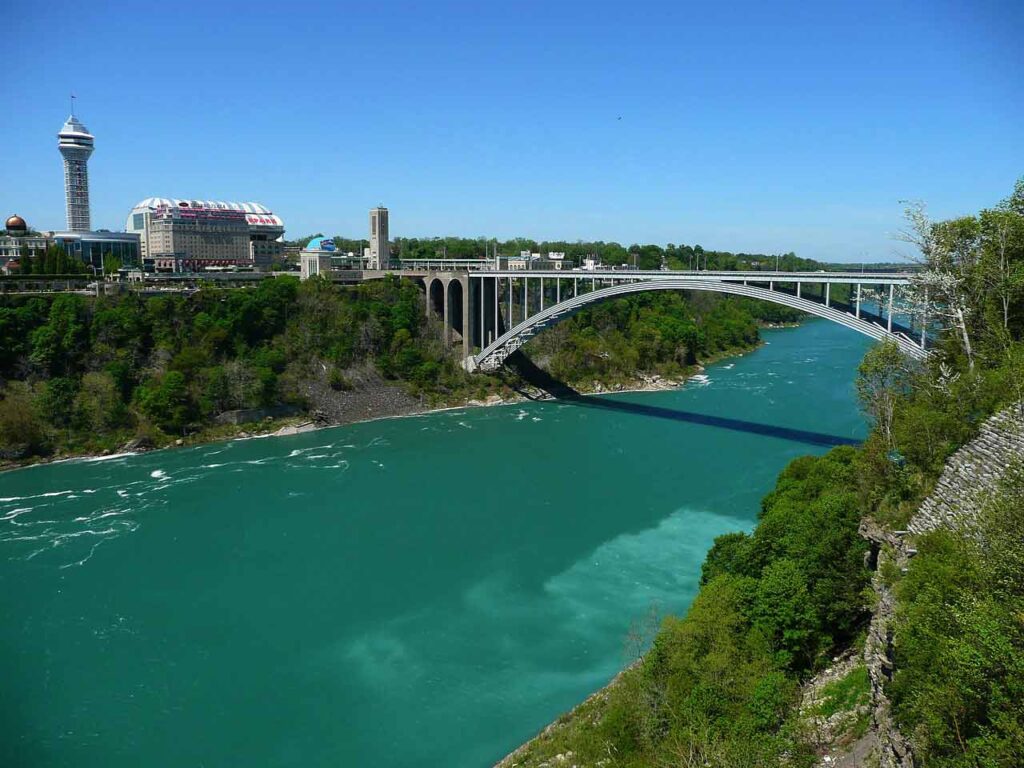 Boat Ride
How can you miss standing behind the water curtain? Do not miss to set your footsteps at Lake Ontario, which lies towards the USA border. What a mesmerizing sight! Stand there to hear and feel the shower of 750 thousand gallons of water flowing through the falls every moment. Furthermore, take a ride on the boat to enjoy the never dreamt views and enjoy how it looks like to stand on the American side of the border.
Helicopter Tour
Helicopter tours are also there for those who can afford them, but one should add them to their bucket list. It will add stars to the once-in-a-lifetime experience list.
While in that area, you should also visit Niagara on the Lake. It is an amazing chocolate-box town, well known for its promising wine tours.
Also, check out our expert tips to explore Niagra Falls!!