Welcome to the enchanting world of Johnston Canyon, where nature's marvels await you in every season. As an ardent traveler couple who's explored this gem countless times, we can vouch for its evergreen charm. Whether you're a solo hiker, a family on vacation, Johnston Canyon caters to all with its stunning trails and breathtaking waterfalls.
Imagine walking through a deep mountain canyon, surrounded by lush pine forests, and the soothing sound of Johnston Creek flowing beneath you. That's the magic of Johnston Canyon, captivating hikers during both summers and winters. In the warmer months, the trail takes you on an easy, picturesque journey, while in winter, the frozen wonderland creates an enchanting ice-walk experience.
All About Johnston Canyon
As you hike along, you'll encounter a series of beautiful waterfalls, each with its unique allure. The Lower Falls, a well-hidden gem, beckons you into a small cave, where you can get close enough to feel the raw power of nature. Be prepared to get a little wet, but the experience is well worth it. The trail to the Lower Falls greeted us with a gentle dirt path, winding its way through a pine forest.
The rushing Johnston Creek, our constant companion, whispered sweet melodies as we strolled along the well-paved trail, comforted by the presence of handrails guiding our way. As we ventured further, the trail treated us to an extraordinary sight – elevated boardwalks hugging the canyon wall, opening up a new perspective of the landscape. The boardwalks, immaculately maintained, provided safe passage as we marveled at the grandeur of Johnston Canyon.
Lower Falls
In less than 30 minutes, we reached the much-anticipated Lower Falls, our hearts brimming with excitement. To witness the falls up close, we crossed a metal bridge and entered a small cave. Once inside, we stood in awe as the magnificent Lower Falls cascaded before us. The sheer power of nature soaked us in its mist, a refreshing embrace after our journey.
The journey did not end here; our spirit yearned for more. We knew we couldn't miss the opportunity to witness the majesty of the Upper Falls. Further, the trail led us to some incline to conquer. It was a vital reminder to stay on the designated path, respecting the habitat of the endangered Black Swift birds that call this canyon their home.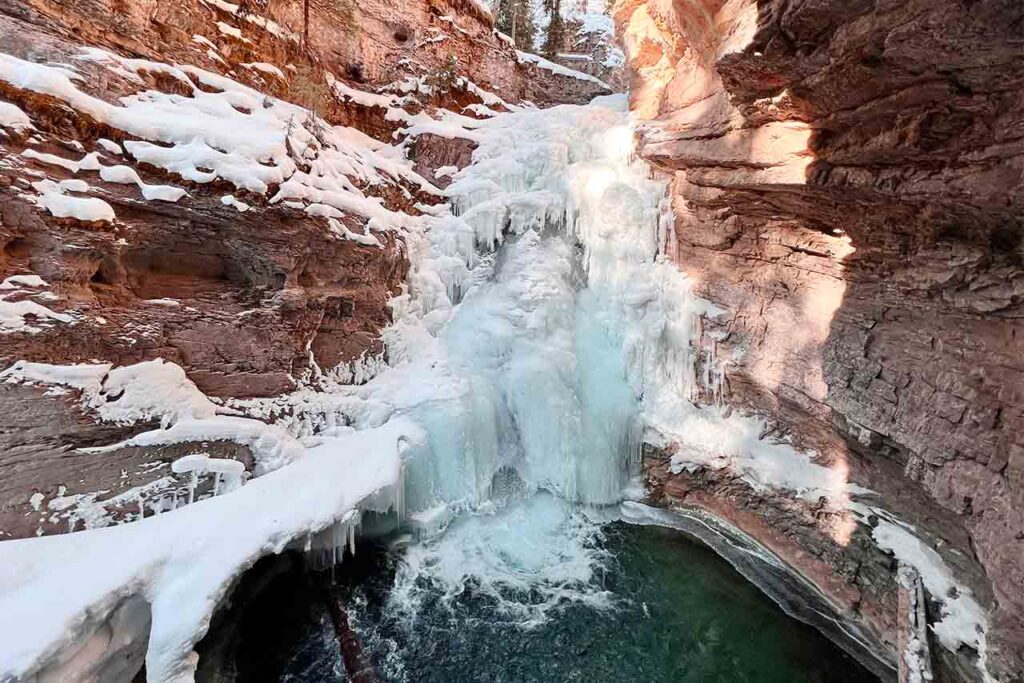 Upper Falls
The Upper Falls revealed themselves to us, and our breath caught in our throat as we beheld their roaring beauty. From a metal viewing platform, we gazed upon the awe-inspiring sight, humbled by nature's grand display. The mist from the waterfall offered solace, a reward for our determination to reach this vantage point. The descent back was a tranquil journey, all downhill, allowing us to relish the memories created in this mystical place.
Facilities at Johnston Canyon
Undoubtedly, it was a day filled with adventure and exploration. We made our way back to the trailhead, basking in the serenity of the forest. As we returned, the base of Johnston Canyon welcomed us with a delightful cafe and much-needed restrooms. Johnston Canyon's gentle slopes make it an ideal hike for families and larger groups. With benches along the way, take a break, and enjoy the views of the waterfalls.
Wildlife at Johnston Canyon
Keep an eye out for adorable Golden-Mantled Ground Squirrels and Red Squirrels; they might just make your day! Remember, while it's tempting to feed them, let's not disrupt their natural diet.
Avoid Crowds at Johnston Canyon
When visiting Johnston Canyon, plan to arrive early on weekdays to avoid crowds. The main parking lot and P2 provide ample space for your vehicle, and parking is free. Pets on a leash are welcome, but be bear-aware as the area falls under bear country. For a more secluded experience, venture further to the Ink Pots beyond the Upper Falls. Here, the crowds thin out, and you can immerse yourself in the serene wilderness of Banff.
Johnston Canyon in Winters
During winters, the Johnston Canyon Ice Walk and Moose Meadows snowshoe add a touch of magic to your Banff adventure. With each visit, Johnston Canyon unveils its captivating beauty, making it one of Banff's top attractions. Immerse yourself in the splendor of nature and witness the powerful flow of the canyon river or the awe-inspiring frozen waterfalls.
Conclusion
To conclude, let the allure of Johnston Canyon cast its spell on you during your trip to Banff National Park. Whether you drive, cycle, or take the Roam Bus, getting to Johnston Canyon is convenient and rewarding. The Bow Valley Parkway offers a scenic drive to this natural wonder. Get ready for an adventure like no other!
Also, check out famous waterfalls in Alberta worth hiking.