The United States of America boasts of an array of magical spots which constitute every couple's bucket list. Whether it's your honeymoon trip or silver wedding anniversary, USA won't disappoint you with its idyllic vacation spots. So just sit back and enjoy this list of the most romantic getaways for couples in USA.
New Orleans, Louisiana
If you only associate this city with the massive Mardi Gras festival, then be prepared to be enchanted by its breathtaking beauty. The serene French Quarter region can make you feel butterflies in your belly with a steamboat cruise on the Mississippi river. Coupled with gorgeous city views, live jazz music, and lip-smacking dinner delicacies, your evening is bound to be a memorable one. New Orleans offers a fair share of romantic eateries like Bacchanal. Lovebirds can spend some quality time riding the old streetcars and visiting the old city center homes hand in hand.
Boothbay Harbor, Maine
Drizzle some romance on your vacation by planning a trip to this quaint New England fishing village. Nestled on the rocky shores of the Atlantic, this idyllic town can help you enjoy some solace in the arms of your partner. Afterwards, get ready to relish some fresh out-of-oven blueberry pie and feel the wind in your hair as you take romantic bike rides through the country. As you meander through its historic fishing docks, you will notice vibrantly hued buoys bobbing in the water. While in Maine, you can't miss out on its romantic lobster dinner.
Finger Lakes, New York
If you don't want to stay in bed all weekend, then Finger Lakes makes up for the perfect romantic vacation spot. Start your day by grabbing some sumptuous breakfast at Ithaca's farmers market followed by a visit to Cornell University. Post lunch you can marvel at the fantastic architecture of the city. You can end your day by taking a romantic walk down Watkins Glen State Park.
Portland, Oregon
The stunning cobblestone streets with cafes and restaurants have made Portland an extremely romantic USA hotspot. If you and your partner love trying out new dishes, then you can take a walk down any of its popular streets. Portland has a large number of beautiful biking trails to help you get a view of this stunning city. You can even rent a tandem bike if your partner is feeling a tad adventurous. Moreover, there are tons of forests and waterfalls around Portland which are perfect for a nature walk with your partner.
San Francisco, California
Screenwriters base most of their romcoms in this magical destination. This is a beautiful place to fall in love and enjoy yourself with your better half. Once you satiate your craving for gram-worthy sunsets at the Golden Gate Bridge. Also, you can take a stroll through Dolores or Presidio parks. You can work up your appetite by hopping to the various light art installations across the city. Above all, North Beach has some of the best spots where you can enjoy pure gastronomic bliss.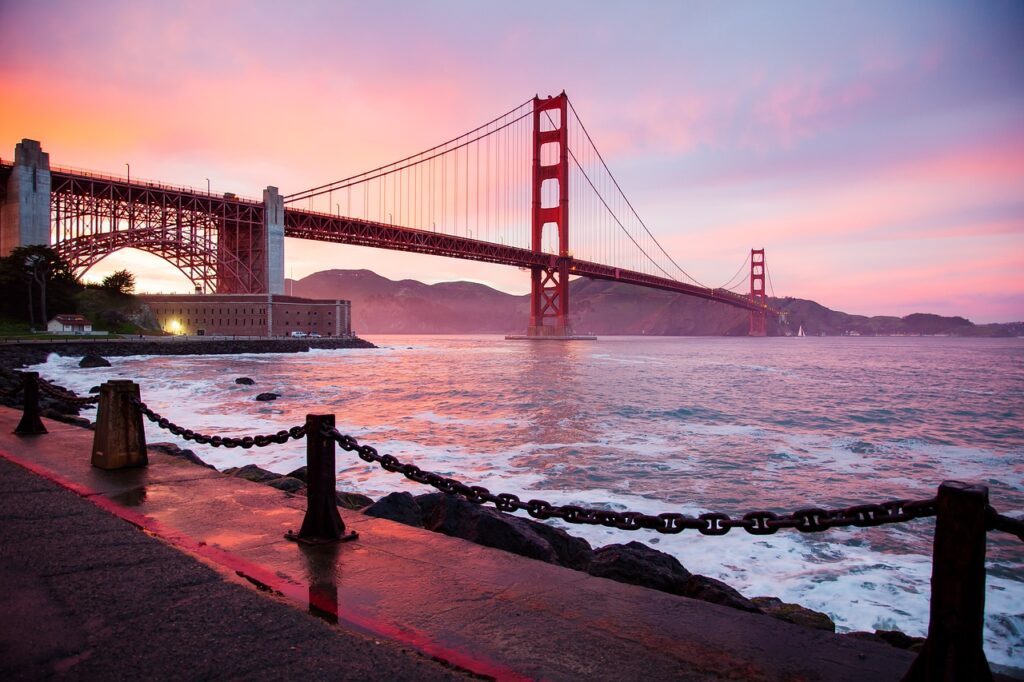 Savannah, Georgia
This sweet southern town combines the quixotic grandeur of Charleston with New Orleans' epicurean delights. You are bound to be charmed by its fabulous cocktail scene, gourmet gastronomy, and rich history. If you like relishing the finer things in life, then you need to visit Savannah with your partner. Make a delectable start to your day by munching down breakfast at Collins Quarter. Next, cruise through the Spanish moss trees on a rented bicycle. Don't forget to grab some crafty cocktails at the celebrated Alleycat Lounge before taking a romantic stroll through River Street.
To conclude, experience sweetness and love with the countless options ranging from New Orleans to Rhode Island and beyond. We hope our guide of romantic getaways for couples in USA has inspired you to plan your upcoming trip. After all, we can hardly say no to a cozy environment with candlelit dinners, beachside walks, and lots of love.